By Lesley Kitchen Lababidi (Rec'73)
Sometimes advice arrives from unexpected places and is seared into the brain, forever.  At Williams Village in a toilet stall in Stearns Hall written on the bottom edge of the inside door with an arrow pointing between the floor and door space were the words, "Beware of limbo dancers!" Little did I know that these four words would be one of the wisest things I learned at the university, and they taught me to take wisdom where I find it. Expect the unexpected, stay flexible and open to distant roads whether trail or paved road.
I graduated from CU-Boulder in 1973. I should have graduated in 1971. (Enter limbo dancer #1.)  Life called, loud and sweet.With only one semester to finish , a  handsome Lebanese man whisked me off my feet and before three months we were married in Beirut. A sojourn in Ghana brought me back to Boulder to finish my degree by providing me a clear goal. I would become a doctor and return to Africa.
[Enter limbo dancer #2.] I was pregnant. My CU adviser poured over my credits as well as my hopes and put together an internship in the field of special needs. I would receive enough credits for a bachelor's degree and graduate. Little did I know, many years later, that semester spent working with the deaf, blind, intellectually and physically disabled would guide me in writing my third book, Silent No More Special Needs People in Egypt (American University in Cairo Press).
Well, you get the idea. There have been a lot of limbo dancers gyrating under the toilet stall doors of my life reminding me to expect the unexpected. In 1968, when I entered CU, the world was perceived through newspapers and Walter Cronkite's evening news. Communication, outside of a 50-mile radius, depended on letters, telegrams or long-distance telephone operators. For those of us curious about faraway lands, stamp collecting and reading books tickled our imaginations. Satisfied or stimulated, our quest was to explore beyond our dorm rooms. Now, we sit behind computers and global exploration comes to our dorm rooms and offices, instantaneously.
Books and a range of interests were my vehicles and CU was the road where I met hippies on the Hill, students involved with SDS, ROTC and sororities, independents, engineers and anthropologists.  Alfred Packer's Memorial Grill was the first place I spoke with a black American, an Asian, a Yugoslavian and a Mexican all in one month! CU was my window on the world and this cross-fertilization trained my spirit.
What's my saying? "Wherever you look, the
re's something to see," which has kept me interested in everything — rock art in the Sudan, silk worms in Syria, Indian Durbar festivals and indigo cloth in Nigeria. Yet, the stuff that memories are made of is still that of a cool Boulder breeze on an autumn afternoon as we gather outside our dorms and turn up our transistor radio to listen to the latest songs on 95 KIMN The Tiger, Boss Radio.
My first daring voyage of discovery began when I left my country and settled in Nigeria. This narrative unfolds in Paddle Your Own Canoe, An American Woman's Passage into Nigeria (Spectrum Books), revealing the drama of life in a mixed marriage along racial, religious and linguistic frontiers through two decades. By 1989, my eldest son was ready for high school and as the Lebanese civil war was still raging with no end in sight, I moved with my three children to Egypt to school them in Cairo.  Here they acquired colloquial Arabic with an authentic Egyptian accent. Cairo embraced us and nurtured us. We learned that its streets are like an open history book, threading stories together over the centuries. Herodotus wrote in the fifth century BCE that "Egypt is a gift of the Nile" and for our family, Egypt was a gift to us. Cairo the Family Guide (American University in Cairo Press), naturally followed.
The design in our lives is based on an emotional foundation, every person leans on the shoulder of another, every hand extends to another. Some of the lessons I learned were to search for answers "outside the box."  Take a close look at assumptions and be willing to hold them up to the motions to the light. Embrace diversity. Think for yourself, seek knowledge and understanding throughout life.
It is the King of Lagos, His Royal Highness Oba Adeyinka Oyekan II who has the last word. On my confirmation as a Yoruba chief (see first photo above), Otun Yeye Luwa (meaning the right hand of the mother of exemplary character), the King of Lagos explains, "Water is like you, it is necessary. It blends with w
hatever vessel carries it. May you not be a stranger anywhere. May you be clear and pure like this drink of all drinks."  The Oba holds bitter kola and continues, "The bitter kola tree takes more than a lifetime to grow. May your life know longevity. We cast kola on the ground and we see more than we did before. May you have the wisdom to listen to the voices inside of you and to lead others through the future."
Lesley Kitchen Lababidi (Rec'73), writer, photographer, philanthropist, wife and mother, lover of Africa has published, has writes: expect the unexpected, stay flexible and open to distant roads whether trail or paved road.. She has written five books and numerous articles about Nigeria, Egypt and Syria about a variety of subjects including culture, history, travel and traditional crafts. She is a marathon cyclist and desert explorer. View her books about Egypt here.

Lesley Kitchen Lababidi's pre-Egyptian revolution interview: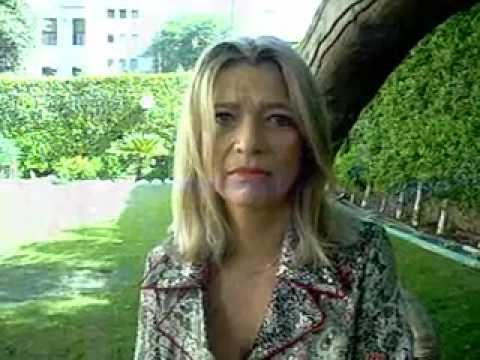 This is her her blog.