Alumni Association Awards: 2013
Forever Buffs Student Award: Quen Ameyaw (Intl. affairs/ethnic studies)
Some people are born with astonishing amounts of empathy for others' plights. Meet Quen Ameyaw. At every turn, Quen has stepped in to make this university a more welcoming place of learning and growth for all students, especially those who know the hurt of not being heard.
When she arrived at CU-Boulder, she got involved in many student groups, including the Black Student Alliance, the African Students Association and the Office of the Vice Chancellor for Student Affairs, among others.
But it was at the Student Outreach and Retention Center for Equity (SORCE), a group that serves underrepresented students, that helped Quen's inner light shine brighter. She's given countless hours to SORCE: organizing and leading student tours, training and coordinating volunteers and making it an even better resource for students.
Growing up as an immigrant gave her astute insight to the inequities suffered around the world and propelled her to want to make a difference in peoples' lives. When she was three years old, she moved to the United States from Ghana, West Africa. Quen watched her mother struggle while working two jobs to make enough money to make ends meet. As she watched her mom work so hard, she realized that education could serve as her stepping stone to a better life for her and her mother and to help others.
Students like Quen Ameyaw make the University of Colorado Boulder a beacon of hope for all of our futures. The Alumni Association is thrilled to present her with the 2013 winner of the Forever Buffs Student Award.
Leanne Skupa-Lee Award: Doug Nelson (Anth'77)
There's love. Then there's deep love. No questions asked. Doug Nelson has a deep love for CU-Boulder and everything it represents.
For the past six years, Doug served on the Alumni Association's board of directors in many roles, including as treasurer and chair of the revenue committee. During his board tenure, Doug was a strong supporter of the Forever Buffs model that offers all 30,000 students and 250,000 alumni a lifetime of services and programming without paying annual dues. He was one of the first to see the benefits of CU leaving the Big 12 and advocated for joining the PAC 10. He brought it up as a new business item to then athletic director Mike Bohn at his first board meeting and lobbied the idea to associate athletic director Jim Senter when the Kansas City alumni chapter hosted the student arm of the Alumni Association, The Herd, in Manhattan that year. Last fall Doug also attended CU chapter watch parties in Manhattan (New York City chapter) and Manhattan Beach (Los Angeles chapter).
Speak to him for even a brief minute, and undoubtedly he'll broach the subject of the CU Buffs with an infectious smile. In fact, he has driven thousands of miles to support the Buffs. Two years ago, Doug drove from his home in Kansas to Terre Haute, Ind., to cheer on the CU-Boulder cross country team. He handed out dozens of cow bells to the spectators there. He participated in eight college fairs in the Kansas City area last year, more than any other volunteer in the country. He also drove to Pullman, Wash., in 2012 to watch the Buffs beat Washington State in what immediately became known as "The Miracle at Pullman." All of this stems from his time as a student, where he served CU athletes on an athletic trainer's scholarship.
Beyond CU-Boulder, Doug has been involved in the communities in which he has lived, including as a Peace Corps volunteer in Honduras. His Peace Corps experience launched a lifetime of volunteering, including coaching and community service projects.
The CU-Boulder Alumni Association is proud to present the Leanne Skupa-Lee Award to Doug Nelson for his undying passion for the university.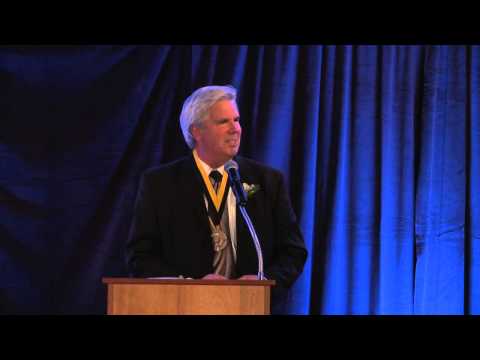 Alumni Recognition Award: Scott Donnelly (CompSci, ElEngr'84)
Much of a university's reputation is based on its alumni. CU-Boulder's reputation is in good hands thanks to graduates like Scott Donnelly, an extraordinary engineer, triumphant leader and generous man whose record of achievement includes notable contributions to health, transportation, engineering and the global community.
Scott began his career with General Electric in 1989 where he quickly advanced to senior management. He served as vice president of technology for GE Medical Systems where he led the development of open, high-field magnetic imaging systems, multi-slice computed tomography and digital mammography diagnostic equipment.
In 2000 Scott became senior vice president of GE's global research heading the world's largest and most diversified industrial research activities. Then in 2005, at the age of 43, he was named president and CEO of GE Aviation, the world's leading producer of large and small jet engines for commercial and military aircraft.
Today Scott is chairman, president and chief executive officer of Textron Inc., a 33,000-employee company. He has lectured on advanced imaging and nanotechnologies, served on national scientific committees and advised on global climate and health-related topics at CU-Boulder, Stanford University and Cornell University.
CU-Boulder always has remained close to Scott's heart. He has served the university as a valued adviser, unwavering advocate and loyal donor. From establishing the Donnelly Endowed Professorship to serving as a conduit for the university's corporate relationships, Scott's extensive volunteer involvement and deep consistent financial commitment have had tremendous impacts on the university.
The CU-Boulder Alumni Association is proud to present the Alumni Recognition Award to Scott Donnelly for all of his remarkable contributions and extraordinary talents to this school and to the world.
Alumni Recognition Award: Midge Korczak (A&S'67, MHist'80)
A longtime executive director of the Boulder County Bar Association, Midge Korczak's keen interest in civil rights and social justice has transformed the lives of those less fortunate at the university, Boulder County and beyond.
Her belief in the value of an undergraduate education has led her to spend years championing the opportunity for all students to be able to pursue a degree. This has included providing support for the university's office of Diversity, Equity and Community Engagement's student mentoring program and the Latino Scholarship Fund, as well as INVST Community Studies, which fosters leadership and civic engagement.
Two years ago, Midge, along with sister, Leslie Singer Lomas (PhDHist'10), donated $2 million to endow the Louis P. Singer Endowed Chair in Jewish History to honor her father. Because of the gift, CU-Boulder became one of only six U.S. public universities to have an established chair in Jewish history.
She adopted and sponsored an "I Have a Dream" class in Boulder County to help 30 low-income kids in elementary school develop a love of learning as they progressed through middle and high school. She spent 10 years nurturing and financially supporting them in their after-school and summer academic programs and, in some cases, college scholarships.
Recently Midge, as chair of the Boulder Housing Partners Foundation Board, instigated a summer reading and learning program for youth living in Boulder's Kalmia public housing, helping to create a partnership between Impact on Education, the Boulder Valley School District and Boulder Housing Partners.
Midge has worked quietly behind the scenes to improve opportunities for all students. If programs didn't exist in areas where she felt they needed to be, she simply created them with her own money and charitable persistence.
The CU-Boulder Alumni Association is delighted to honor Midge Korczak with the Alumni Recognition Award for her deep compassion for others, commitment to social justice and unwavering dedication to CU-Boulder and the education of young people.
Kalpana Chawla Award: Marco Campos (CivEngr'98)
Growing up in west Denver, Marco Campos watched his grandfather work to a dripping sweat as a self-employed welder. That time spent working with his grandfather taught him about the importance of a strong work ethic, perseverance and pride in workmanship, shaping the arc of his education and career.
As a first-generation college graduate, Marco overcame financial and social barriers to excel at CU-Boulder and become a leader among his peers. Those who watched him grow as a student say he regularly projected a sense of confident optimism and persistence, pride in his Latino heritage and played leadership roles in professional clubs.
Before Marco turned 30 he founded Campos EPC, a successful engineering firm serving the oil and gas pipeline industry. It all started humbly enough in his basement, but within seven years it became a niche market leader with more than 80 employees and offices in Colorado, California, Texas and Washington.
In addition to his professional success, Marco's profound commitment to the university and its students has been a source of inspiration for many. Within 15 years of graduating, he created a lasting legacy in his family name through an endowed scholarship, The Campos Family Scholarship Fund, as well as the Campos EPC scholarships. The scholarships are designed to help as many students as possible based on need and disadvantage. He also mentors students and serves on the CEAE and BOLD advisory boards, building connections between the business community and university.
The Alumni Association is thrilled to recognize Marco Campos with the Kalpana Chawla Outstanding Recent Graduate Award for his professional feats and his tremendous impact on students as a role model, mentor and philanthropist.
Kalpana Chawla Award: Dave Morin (Econ'03)
Social media innovator Dave Morin grew up under Montana's big sky — a sky just large enough to serve as a palette that could hold Dave's big dreams.
It was obvious, even as an undergraduate, that Dave was headed places. He founded a small design-focused Internet company called DM Design Studios in his dorm room.
After graduating he joined some big-hitting companies, including Apple, where he worked in product marketing. He then joined the management team of a little social media venture you may have heard of — Facebook. He co-invented key products that made Facebook, well, Facebook.
But Dave had bigger dreams and much more to do in the world of social networking. In 2010, he founded a company called Path, an award-winning, five-star rated social networking tool serving millions of people every month. It's now highly sought after by some giant Internet players. In fact, he turned down a $100 million buyout offer from Google.
The New York Times has hailed him as an innovator. Newsweek put him on its list of exceptional young entrepreneurs. Fast Company magazine added him to its 100 most creative people list. And Bloomberg Business News named him Best Young Technology Entrepreneur.
Along his prosperous path, Dave has remained a thoughtful and active community leader who serves on such nonprofit boards as the United States Ski and Snowboard Association and the San Francisco Museum of Modern Art. And he has certainly not forgotten CU-Boulder. He served on the Alumni Association's Social Media Task Force, often speaks to students and promotes the school as a central player in making Colorado an entrepreneurial and high-tech gateway state. He gave the Commencement address to CU-Boulder's economics department graduates in spring 2011. 
The CU-Boulder Alumni Association is proud to present the Kalpana Chawla Outstanding Recent Graduate Award to Dave Morin for his world-renowned achievements and continued support for CU-Boulder and its students.
Robert L. Stearns Award: Maren Additon
CU-Boulder learned something in 1996 — if you have a job that needs to get done with competence, professionalism and zeal, you'd be well-served to hire Maren Additon.
Since then, Maren has proven to be nothing short of a problem-solving dynamo who approaches every task with nothing less than 110 percent. As director of budget and operations for Student Affairs, Maren has quietly shaped key university initiatives without public acclaim.
Maren's leadership as chair of the Center for Community Building Committee was instrumental in bringing together the diverse thoughts and visions of numerous departments. In her role she developed a comprehensive understanding of the needs of the future tenants of the Center for Community, an $84.4 million project, and negotiated conflicts to streamline design processes and construction schedules. Under her leadership, the building has truly become a center for community for students, staff, faculty and visitors.
Drawing on her prior experience volunteering on the student run Finance Board, she works with student leaders helping them understand complex financial issues. Maren consistently strives to ensure students receive the best services possible within the financial means of Student Affairs.
At the request of the Chancellor, Maren chairs the Campus Use of University Facilities (CUUF) committee. She led the committee through the arduous process of revising and updating the CUUF policy until the update was endorsed by the Chancellor and adopted by the campus.
The CU-Boulder Alumni Association is honored to present the Robert L. Stearns Award to Maren Additon to recognize all that she does to make CU-Boulder a stronger community.
Robert L. Stearns Award: Daniel Sher
You could say Daniel Sher hit all the right notes during his 20-year tenure as the Dean of the College of Music at CU-Boulder. A true virtuoso of music administration. No doubt, his accomplishments have been music to all of our ears.
Daniel learned music from some of world's most respected institutions in the world, including the Oberlin Conservatory, the Juilliard School and the Teachers College of Columbia University. And because of his presence and prowess, he's now put CU's College of Music on par with those same schools.
For the past three consecutive years, CU-Boulder has been cited by the Fiske Guide to Colleges as one of just 25 in the nation — among a total 1,200 music programs in higher education — for its excellence in music. It has been ranked in the top 20 among all college, university and conservatory music programs by U.S. News and World Report. The reason? Daniel Sher.
Daniel Sher has served on committees, boards and societies far too numerous to mention here, but suffice it to say his service with those groups and this school has led to collaborative and strengthened relationships with virtually all of the major arts organization in Colorado, including the Colorado Symphony Orchestra, the Aspen Festival and School, Central City Opera, and the Boulder Philharmonic, among several others. CU-Boulder leaders praise Daniel and say he's been the instrumental piece in establishing the university as a cultural and performing arts hub that attracts upwards of 385,000 citizens to the campus annually.
Of all his triumphs, Daniel says it's the relationships he helped forge that make him most proud.
Well, what makes the CU-Boulder Alumni Association proud is having Daniel Sher as part of our school. Daniel stepped down as dean at the end of June, but thankfully he decided to stay and serve on the faculty. And so the association is honored to present the Robert L. Stearns Award to Daniel Sher for all of his distinctive dedication and incomparable achievements.
George Norlin Award: Thomas Fredericks (Law'72)
We believe it's particularly fitting that Tom Fredericks is winning the George Norlin Award this year because he was born the same year the award began — 1943. Tom was born in Elbowoods, N.D., as an enrolled member of the Mandan, Hidatsa and Arikara Nation on the Fort Berthoud Reservation.
Tom was one of nine children growing up on his family's ranch near a river below Lake Sakakawea with fertile land and a haven for cattle, horses, pigs, chickens and cows. But when Tom was in fourth grade, the U.S. Army Corps of Engineers seized the ranch as flood lands for the Garrison Dam project. Tom's tribe hired engineers who found a more suitable place for the dam and repeatedly voiced their objection to the project, but the Corps moved forward. Tom's family was paid a paltry, non-negotiable sum for their land.
That event set the stage for Tom to pursue a career in Native American rights. His persistent dedication to assisting tribes in land, farming, ranching, economic development and infrastructure has led to improved legal and political relationships between tribes and the state and federal governments.
Considered one of the leading experts in tribal law, Tom has successfully litigated literally hundreds of cases and served as director of the Native American Rights Fund, associate solicitor for Indian Affairs and assistant secretary for Indian Affairs under President Jimmy Carter. Today Tom heads the nation's largest Indian law firm, Fredericks Peebles & Morgan, which is based in Boulder County.
The CU-Boulder Alumni Association could not be prouder to present the George Norlin Award to Tom Fredericks for his unequaled work of bringing justice to Native American tribes and for playing a central role in the development of Indian law during the past four decades.
George Norlin Award: David Lewis (ArchEngr'78)
It would be hard to miss one of David Lewis's fingerprints if you took a walk through campus or drove around the Denver area.
That's because David is a prolific and extraordinary architectural engineer. He has helped build S. A. Miro into an architectural and civil engineering firm with a stellar reputation for excellence with such clients as Denver International Airport, Children's Hospital Colorado, the U.S. Air Force Academy and Ocean Journey Aquarium. On campus he played a role in the Wolf Law Building, Center for Community and Sibel Wolle Visual Arts Center, among others.
But his successes extend far beyond buildings. David is a tireless supporter of CU-Boulder's engineering and applied sciences college. He helped found the college's executive advisory board; he worked to create the college's strategic plan; he assisted faculty in developing a capstone design course; he gives students hands-on experience via projects at his company and promotes the university to high school students at school fairs and extracurricular courses. He and his company make sizable financial contributions toward benefiting the community at large.
In the larger community, David has volunteered for the Boy Scouts, the Aurora School District, Aurora Community Housing Partners, the Whiz Kids tutoring program for disadvantaged kids and Habitat for Humanity.
Tonight David follows in familial footsteps. His grandfather Philip Worcester (Geo'09) and uncle Willis Worcester (ElEngr'39) won the George Norlin Award in 1946 and 1970 respectively.
The CU-Boulder Alumni Association is proud to present the George Norlin Award to David Lewis for making Colorado an even more spectacular state and for his countless hours spent and providing visionary leadership in the engineering college.